Drilling a tiny hole through the indented gasket is the main task asked to the EDM Eroder drilling machine. Careful and precision to realize the hole in the center of gasket of right diameter for your needs.
The dimensions of hole, can have the diameter included from 50 to 200 µm, must be in good circular shape and aligned in the center of indenting.
Universally named Electric Discharge Machine (EDM), it is an innovative and modern machining technique. Then it is a manufacturing process for drilling circular holes with high quality borders on metallic substrates, this using electrical discharges (sparks).
LOTO-eng spark eroder machine, is an EDM system designed with a completely renewed drilling working process based on a new feed-back circuit. Consequently this  guarantees a fast and easy drilling of the gasket, producing decisive advantages in the high pressure research experiments with Diamonds Anvil Cell.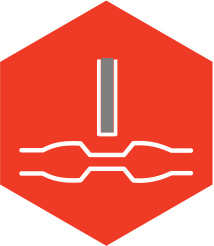 Features of the LOTO-eng EDM Eroder
1-Motion Control
The EDM process is demanding of its motion control system, which is used to position the
electrodes. Precision of the movement and posizioning with a Micro-grip-end head can permit the positioning better than 5 microns.
2-The camera is located under the sample holder, the aluminium beaker with a glass window, inside the dielectric liquid. The focus on the working area can made by a micro-stage movement on the front of the camera.
3-The software
An interactive software on a Windows PC permit to manage connexions, parameters to drill and better vision of the working area with a cross pointer able to do an indirect measure of the hole dimension.
4-Electrical discharge control
EDM begins, the processor calls the gap state recognition program. When the processor detects a rising or trailing edge, which means the processor enters the open circuit or short circuit interruption service program.
5 Dielectric Unit
The machining environment, where both electrodes resided, was inside a machining vessel that
contained the dielectric liquid.
The oil was cycled through a pump to keep it flowing.
6 Tooling
To have a good hole, you need to proceed with care to arrange tip and his positioning. It is mandatory to have a good tip, flat and the circular edge must be fine, in this way the discharge will be circular and the hole will be done at the better.