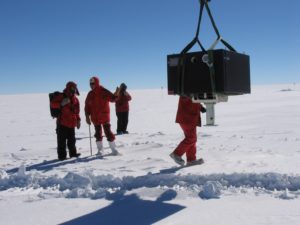 Engeenering
Microway radiometer – For  DOMEX experiment LOTO-eng built a microwave radiometers at 1.4 and 6.8 GHz designed and developed at the IFAC laboratories and used in recent years for studies on agricultural and mountainous areas, were adapted for the extreme Antarctic conditions. The instrument package was installed on a mechanical platform and fixed to a 32 m pre-existing observation tower used for the calibration of optical space-borne sensors.
Goniophotometer – A two-axis goniophotometer is constructed from LOTO-eng for Lite & Bite to characterize photometric properties of compact light sources for architectural environment. In order to develop energy-saving light sources and luminaires, designers and manufacturers require precision measuring equipment with photometers of appropriate size and accuracy for measuring the intensity distribution curves and other characteristics.With the device, total luminous flux emitted by a light source s is calculated from the integration of the illuminance values measured on the goniometric spherical surface.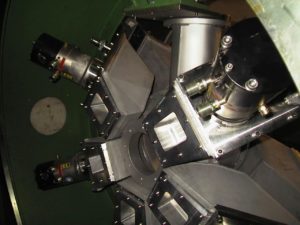 Neutrons
LOTO-eng playing a significant role in the design and manufacturing of new instruments for scientific research, co-operating with European scientific institutions and universities, and developing both standard and custom solution specially in Neutron's instrumentation.
This field of research aims to cover the broad scientific activities in the investigation of material dynamics, in the domain of both space and time, using quasi-elastic neutron scattering with emphases on new applications in relevant emerging industrial areas.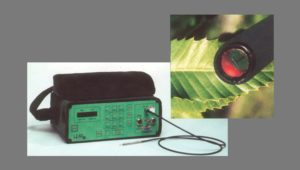 Scientific Instrument
LEAF is a portable, battery-powered fluorometer that enables quick and precise measurement of chlorophyll fluorescence parameters in the laboratory, greenhouse, or in the field. It can be effectively used for studying photosynthetic activity, stress detection, herbicide testing, or mutant screening. Measured data are sequentially stored in the internal LEAF memory. Data transfer to a PC is via seriual. Comprehensive software provides data transfer routines and many additional features for data presentation in tables and graphs.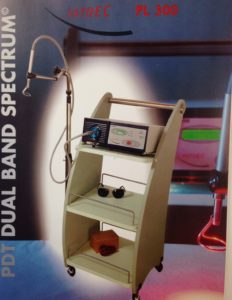 Light sources
Dual band spectrum source is a xenon discharge lamp to treat dermatologic deseas like cancer and other infections. In photodynamic therapy (PDT) a photosensitizer, a molecule that is activated by light, is administered and exposed to a light source. This leads both to destruction of cells targeted by the particular type of photosensitizer, and immunomodulation. PDT is used commonly to treat precancerous cells, sun-damaged skin, and acne. It has reportedly also been used to treat other conditions including inflammatory disorders and cutaneous infections.