Product Code: HTD-800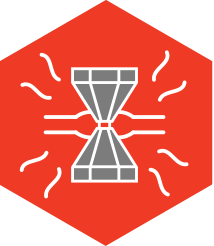 Heater for DAC cell
Heater for DAC Cell is  equipped with a miniature resistive heating element for the simultaneous application of temperature
A reliable high-performance heating method using resistive heaters and a membrane driven diamond anvil cell (DAC) is realized. It enables almost perfect isobaric conditions for temperatures varying from 300K to 800K
One heater is mounted on the external body of DAC and use electrical power 200 W to achieve sample temperatures up to 800 K. If the optical access can permit is preferred to put the cell inside a vacuum chamber to prevent the oxidation of materials and grow up the temperature  and to sustain stable heating to over 800 K.
A K-type thermocouples mounted close to diamonds is used to control the temperature. The approach can be used for Raman spectroscopy and IR study at high pressures and temperatures. A Rhenium gasket material permits stable operation of DAC.
An external temperature control manage the parameters of current and temperature.
TECHNICAL DATA
| | |
| --- | --- |
| TEMPERATURE | UP 800°K |
| RESISTIVE HEAD | 500 Watts |
| PREVENT OXIDATION | Argon flux |
| VACUUM VESSEL | Available |
| CONTROLLER | Power supply and temperature control |
HIGHLIGHT
High temperature and gas to preserve oxidation
DAC cell in alloy steel
Temperature control