Product Code: BON-A01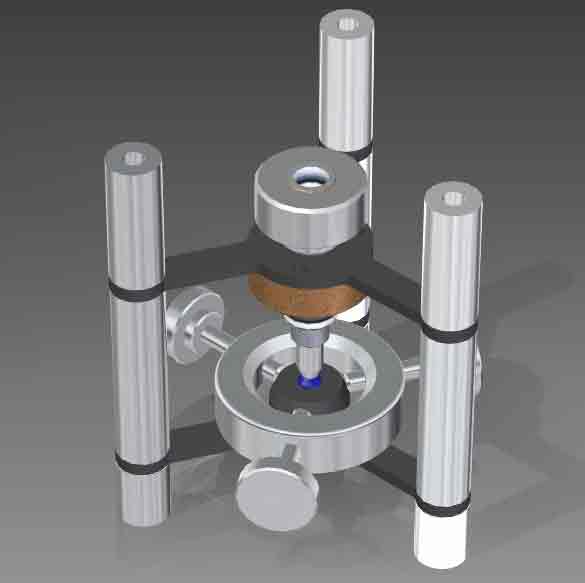 Diamonds bonding fit tool
Used primarily to glue the anvil diamonds on the seat in DAC cell. The fine surfaces of support permit a very tight action during the bonding phase. Universal tool works with all brands of anvil diamonds and seats.
The diamond mounting template is used to block diamonds to tungsten carbide, boron nitride and other diamond seats with epoxy glue or ceramic. We offer a spring loaded threaded stainless steel tool. The universal design to work both with diamonds to allow table and with conical support diamonds (Boehler type).
Jigs accept seats from 9 to 18mm in diameter and a wide range of seat thicknesses from 3 to 12mm. Seat position is adjusted by M3 knurled screws. A typical plunger has a through hole, allowing the diamond culet to be illuminated for alignment.
TECHNICAL DATA
| | |
| --- | --- |
| PRESSURE CONTROL | Spring / Plastic |
| MATERIAL | Stainless steel alloy |
| LATERAL ACCESS | 360° |
| BOTTOM ACCESS | Microscope view |
| DIMENSIONS | DIAMETER 55mm Height 62mm |
DAC by Screws Large Open Angle