Product Code: RDS-013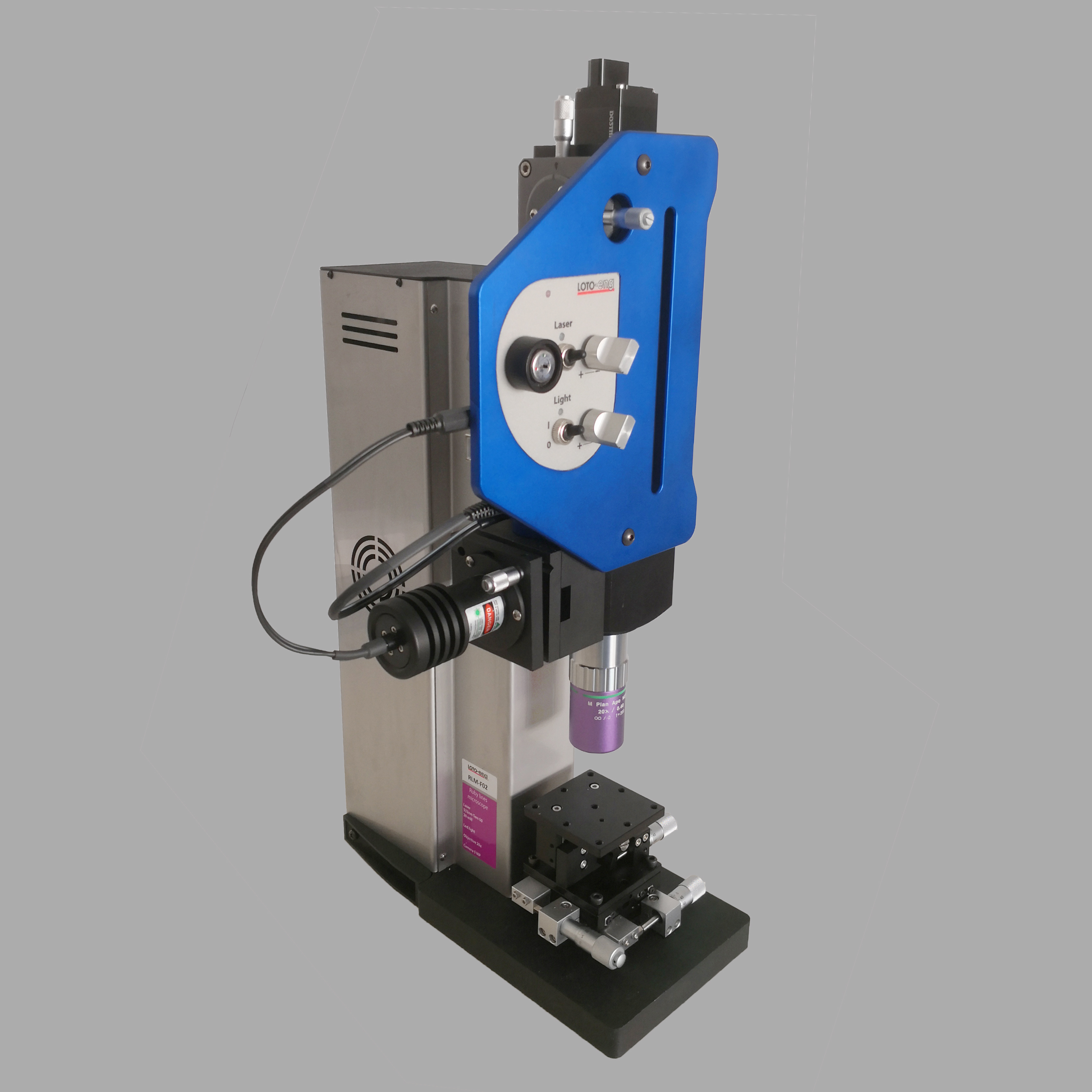 Ruby fluorescent pressure measurement system
The ruby lines detector or ruby fluorescent pressure measurement system is e compact box designed to collect the fluorescence emission of a small ruby chip placed inside the sample under pressure in the Diamond Anvil Cell (DAC).  Photoexcitation is provided by a Laser source at  532 nm.
A long working distance microscope, objective 20X, ensures high efficiency of fluorescence collection and good quality sample image. The fluorescence signal is sent through a dedicated optical fiber system  to a compact spectrometer. The side of the microscope has an optical entrance which allows, using the same microscope objective, to enlighten the sample for the visual observation. The ruby lines investigation employs a microscope technique requiring the addition of multiple optical instruments, the laser to excite the fluorescence of the ruby crystal, focusing optics and fiber optic for collection and trasmission of fluorescence. A PVM regulator permit to control lighting and laser parameters. The system is assembled with the spectrometer. The ruby lines are investigate to measure the pressure by a related software. RLW-001
The regulator of the power for the laser power and the sample lighting LED is inserted in a console fixed on the front of the microscope. The console can be separated for remote control.
Each part can sell separately related the customer or experiment's needs.
The microscope can work in vertical (standard) or horizontal poisition.
Include or sold separately 
RLS-S01 Ruby lines spectrometer 
RLM-F02 Microscope 
RLC-F02 Calibration neon lamp
TECHNICAL DATA
| | |
| --- | --- |
| MICROSCOPY FOR RUBY LINES SYSTEM (RLM FO2) | 200x Objective-Green or Blue laser-Digital Camera |
| RUBY LINES SPECTROMETER (RLS-S01) | Resolution 0,2nm Spectral range 690/740nm F/N f/3 |
| RUBY CALIBRATION NEON LAMP (RLC-F02) | Neon Emission Lines |
| OPTICAL FIBER | 50 microns diemeter |
HIGHLIGHT
Compact and portable
High efficiency geometry
Very sensible array